Contact Moorpark Center for Dentistry in Moorpark, CA
Moorpark Center for Dentistry Is Here for You
Moorpark Dental Office
4217 Tierra Rejada Rd.
Moorpark, CA 93021
Phone: 805.243.3999
Office Hours:
Monday: 7:00 AM – 7:00 PM
Tuesday: 7:00 AM – 7:00 PM
Wednesday: 7:00 AM – 7:00 PM
Thursday: 7:00 AM – 7:00 PM
Friday: 7:00 AM – 4:00 PM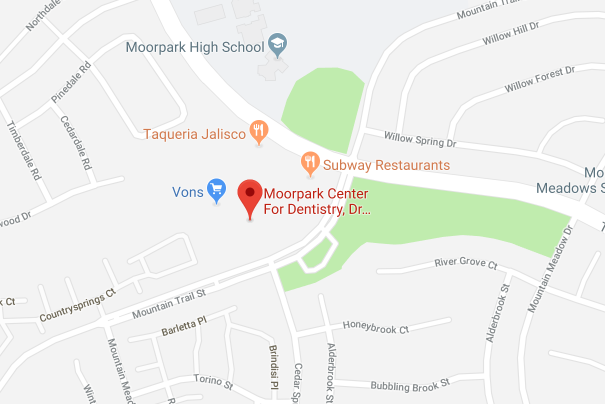 Contact Moorpark Center For Dentistry in Moorpark, CA, to Schedule Your Exam
If you have any general questions or comments for our expert dentists and skilled team, please feel free to use the form below to contact our friendly office. If you are interested in scheduling a Moorpark Center for Dentistry New Patient Exam, please click the button below.
*Please do not submit any Protected Health Information (PHI). This is not a secure or encrypted means of communicating with our Moorpark, CA, dental office.
As one of the premier dental practices in Moorpark, CA, our team at Moorpark Center for Dentistry also provides 5-star-rated dental care to children and adults in Simi Valley, Somis, Thousand Oaks, Camarillo, CA & surrounding areas.